---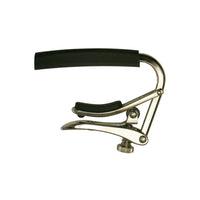 Description:
Standard Capo for 12-string guitar. fits a guitar with a curved fretboard with a great design to reduce tuning problems. 
Features:
Its custom material presses the strings just like your fingertips.
Its unique design closes onto the neck just like your hand.
Its pressure is totally adjustable and easily repeatable.
THE RESULT: NO RETUNING IS NECESSARY