---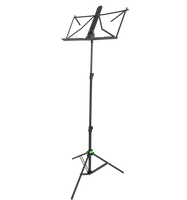 • Lightest stand on the market at only 700g
• Clasp lock system designed by RATstands
• Carry bag included as standard

The Scherzo Stand is a high quality, super-lightweight folding music stand. Being made of aluminium it weighs little more than half as much as other folding music stands of this type. This entry level stand still boasts the quality of design and manufacturing that RATstands demands.

High quality joints make it a pleasure to fold and unfold and it has a precise and positive locking button for adjusting the angle of the tray.

This stand comes complete with a nylon carrying bag.

The classic folding music stand, but ours is better.
Made of aluminium and weighing only 700g the Scherzo will last for years.

Stem clasp
Strong and clever clasp allows you to quickly set your stem at the perfect height and it wont slip.


Strong aluminium construction
The Scherzo stand is made from Aluminium and only weighs 700 grams. This is perfect for being on the move as you barely notice you are carrying it.


Quick-adjust tray button
Fast and Secure, the clever button behind the tray allows you to find the perfect angle with one hand.