---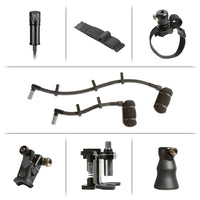 Audio-Technica's versatile UniMount® clip system and new violin mount, the low profile ATM350 is an exceptional cardioid condenser microphone designed to clip to brass, upright bass, reeds, piano, snare, toms, and violin. The microphone offers a crisp, clear, well balanced response, even at high SPLs. It features an integral 80 Hz hi pass filter on the in line power module. Its cardioid polar pattern reduces pickup of sounds from the side and rear for effective protection against feedback.
I love the ATM350 clip ons for the saxes too – you get such a big, impressive sound from those little mics.'
Low profile design for minimum visibility
UniMount® clip permits accurate positioning, provides shock resistance and protects element
Unique violin mount permits unobtrusive placement of microphone between the instrument's bridge and tailpiece
Crisp, clear, well-balanced response, even at high SPLs
Cardioid polar pattern reduces pickup of sounds from the sides and rear, improving isolation of desired sound source
Interchangeable elements available for hypercardioid and omnidirectional polar patterns
Corrosion resistant contacts from gold plated XLRM type connector
Rugged, all metal design and construction for years of trouble free use
ELEMENT Fixed-charge back plate permanently polarized condenser
POLAR PATTERN Cardioid
FREQUENCY RESPONSE 40-20,000 Hz
LOW FREQUENCY ROLL-OFF 80 Hz, 12 dB/octave
OPEN CIRCUIT SENSITIVITY –49 dB (3.5 mV) re 1V at 1 Pa
IMPEDANCE 50 ohms
MAXIMUM INPUT SOUND LEVEL 149 dB SPL, 1 kHz at 1% T.H.D.
DYNAMIC RANGE (typical) 122 dB, 1 kHz at Max SPL
SIGNAL-TO-NOISE RATIO 67 dB, 1 kHz at 1 Pa
PHANTOM POWER REQUIREMENTS 11-52V DC, 3.5 mA typical
SWITCH Flat, roll-off
WEIGHT (MICROPHONE) 14.5 g
WEIGHT (POWER MODULE) 81.2 g
DIMENSIONS (MICROPHONE) 37.8 mm long, 12.2 mm diameter
DIMENSIONS (POWER MODULE) 92.9 mm long, 18.9 mm diameter
OUTPUT CONNECTOR (POWER MODULE) Integral 3-pin XLRM-type
CABLE 4.0 m long (permanently attached to microphone), 3.2 mm diameter, 2-conductor shielded cable with TA3F-type connector
ACCESSORIES FURNISHED AT8543 power module; ; AT8468 violin mount; soft protective case
The ATM350a comes in six, specially designed systems that provide discreet, rock solid mounting solutions for a host of instruments, including woodwinds, strings, brass, percussion, drums and piano. In addition to these complete microphone systems, the rugged UniMount® components and component systems are available separately, without the ATM350a.
CHOOSE FROM FOLLOWING OPTIONAL UniMount® Components
AT8490 5" Gooseneck
AT8490L 9" Gooseneck
AT8491D Drum Mount
AT8491P Magnetic Piano Mount
AT8491U Universal Clip-on Mount
AT8491W Woodwind Mount