---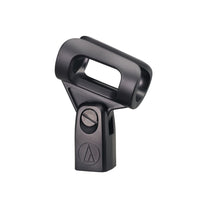 Fits AE2500 AE3300 AE4100 AE5400 AE6100
Fits microphones with a tapered body. Compatible with: Shure Sm58 SM57. Compatible with 5/8"-27 threaded stands.

Fits Audio-Technica Case Style(s): T1, T2, T3, T4, T5, T6, T7

The Audio-Technica AT8470 Quiet-Flex Microphone Stand Clamp is a sturdy, noise-reducing mic clamp for tapered-body handheld mics.

The AT8470's rubbery, pliant material helps shield your mic from noise when removing or attaching the mic. It screws easily on to standard 5/8"-27 threaded mic stands.

Quiet The AT8470 is made of pliant material that creates acoustic isolation between the mic and the stand. This keeps unwanted noise to a minimum. Adjustable Angle Point the mic where you need it using the AT8470's adjustable angle hinge.