---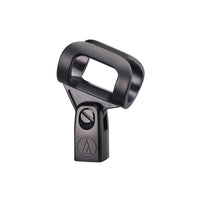 Fits AT Wireless Handheld Mics
Top Quality manufacturers clip

Quiet-Flex™ stand clamp for A-T handheld wireless transmitters, 5/8"-27 threads.

The AT8456a Quiet-Flex Microphone Stand Clamp for Wireless Transmitters is built to mount Audio-Technica's handheld wireless mics, which (housing extra components) have thicker shafts than common wired mics.

The AT8456a's rubbery, pliant material helps shield your mic from noise when removing or attaching it. The clamp screws easily on to standard 5/8"-27 threaded mic stands.


Quiet The Quiet-Flex Clamp is made of pliant material that creates acoustic isolation between the mic and the stand. This keeps unwanted noise to a minimum. Adjustable Angle Point the mic where you need it using the AT8456a's adjustable angle hinge.