---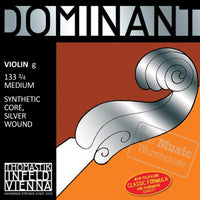 Dominant Synthetic Core Strings.
Comparable in sound to gut, without gut's disadvantages. 
These strings have a highly flexible, multi-strand nylon core. The resounding success of Dominant strings is due to its similarity in tone and response to gut strings, without gut's attendant drawbacks. 
The sound is warm, full and mellow, yet rich in overtones. Its ability to project sound without being metallic comes to the fore both in arco and pizzicato. Also offers effortless response to intricate fingering and tuning stability even under extreme humidity and temperature conditions. Dominant strings should be changed at appropriate intervals to ensure continuity of tone color. 
We invite you to see why Dominant strings are called "The Reference Standard" and are used by professional players as well as students of all levels. 
ABOUT THIS BRAND.
Handmade Strings Since 1919 from Vienna, Austria.
In 1919 violin maker Dr. Franz Thomastik and civil engineering specialist Otto Infeld founded the company, invented the steel string and caused a revolution in the music world. Suddenly the conventional gut string was challenged by a new string with the highest quality of tone, precision and reliability. It was received enthusiastically by virtuosi across the world.
The string makes the music. The diversity and beauty of the musical timbre depend upon, on the one hand, the type of material used for the core and on the other hand, the material spun around the core. For a perfect sound, Thomastik-Infeld has consistently chosen steel and nylon as the string core material for bowed and plucked instruments.
The highest standards are guaranteed by ongoing research in Thomstik-Infeld's own research lab engaging a team of highly specialized technicians. However, tone perfection is achieved primarily by the delicate touch of fingers and the highly qualified staff in the workshops: Every string at Thomastik-Infeld is wound and checked by hand.
DOES IT MATTER WHICH TYPE of String You Put On Your Instrument? Absolutely!
Choosing the correct strings has a huge influence on its tone, ease of playing, and even its well-being: the best and most expensive instrument will only sound average if it is incorrectly strung, while an average instrument can transcend its own limitations with the correct choice of strings. As a matter of fact, switching to better strings is the shortest and easiest way to producing better sound.
From nine decades experience with string research, string development and string production Thomastik-Infeld can safely say that while "the one perfect string for everyone" does not exist, the perfect string for your instrument, playing style and musical repertoire is most likely a Thomastik-Infeld. Up-to-date know-how and long experience enable Thomastik-Infeld to bring out the best in each stringed instrument, revealing and enhancing its tone, color and quality.
Thomastik-Infeld offers a broad choice of products to fit every instrument, musical style, and playing situation. All products are handmade in Vienna to highest manufacturing standards, satisfying the most discriminating musician. 
Welcome to Thomastik-Infeld.
- Peter Infeld, 1942-2009