---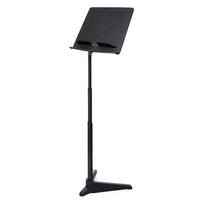 • Contemporary design
• The lowest and tallest height of any single music stand in the world
• RATstands Friction System

What every school wants is an unbreakable stand, which nests for compact storage, has no knobs to fiddle with or get lost, and has a range of height adjustment to suit a child cellist as well as a singer standing on a riser.

The Alto Stand delivers this and so much more. Made from materials that are unbreakable yet will not damage things they are bashed into, this high performance, cost-effective stand offers the biggest range of height adjustment of any stand on the market, while the design enables them to stack easily and compactly.

Add to that some features normally only found on expensive stands, including an aluminium stem, rubber feet to protect your floor, an extra lip on the music tray for pencils and erasers, and the lowest storage height on the market.

The lowest and tallest, all in one stand.
Schools, practice rooms and musicians on risers. RATstands has invested in creating a music stand that is virtually indestructible, just for you.

Greater range of height adjustments
The Alto Stand has a greater range of height adjustment than any other stand. The one stand covers the applications for which other manufacturers require three different music stands.


Additional shelf
The tray has an additional shelf for pencils and small instruments


Stackable
Unlike other stands which can only be nested on a purpose made trolley, the Alto stand nests on a flat floor. Alto trolleys are available for effective storage – however if you just want to pile them up in a corner, or put them in a cupboard, you can.


Friction locks
Friction locks automatically hold the tray and stem at whatever angle or height you set. There are no knobs to fiddle with or lose, and it will never go slack.


Storage trolley
You can store 16 alto stands on one of our easy to use and robust storage trolleys. The trolley fits through doors easily and has braked swivel castors.


Injection moulded base
The base is made of a polymer which does not "ring" or cause damage when knocked.