---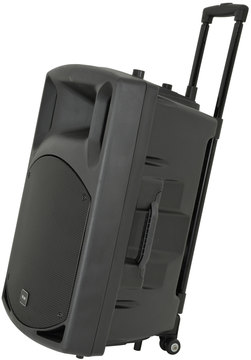 Launched in 2009, QTX is predominantly a professional lighting brand. Ideal for clubs, bars, schools and theatres, its comprehensive product portfolio covers everything the market demands, from domestic party lighting to cutting-edge effects for installation use. The QTX brand also includes a range...
See more from this brand...
Portable ABS Active 15 Inch - with UHF, USB/SD/FMÂ 
AC/DC Powered - 2 x UHF Mics - Each
QXPA-plus Portable PA with UHF, USB/SD/FMÂ 
Complete portable PA unit in a QX-series cabinet. Built-in amplifier operating from mains or internal rechargeable battery powering a main driver and compression driven horn unit. 2 x UHF handheld wireless microphones are included with the receiver built into the rear panel along with 2 further mic inputs, auxiliary line input. Internal audio source is provided by an integral USB/SD/FM media player. A moulded handle and pole mount are included and a retractable trolley handle and rear wheels provide easy portability.
2 x UHF handheld wireless microphones
Built in USB/SD/FM media player
Rechargeable battery or mains operation
Specification : Common
Power supply240Vac, 50Hz (IEC) / external 12Vdc / internal battery
HF driver25mm (1'') Titanium compression driver
Amplifier output50 + 50Wrms
Battery lifeUp to 8 hours
ControlsVolume, Bass, Treble, Echo, Delay, Mic vol, UHF vol, Contour, VCV,
Inputs2 wired mic (jack) and aux (RCA & 3.5mm)
Dispersion90° x 60° (H x V)
 
 The box for this item contains :
 
QXPA+ portable PA unit
2 x UHF wireless handheld microphones
Media player remote control handset
IEC mains lead
 
| | |
| --- | --- |
| Â  | |
| Wireless microphone frequencies  | 630MHz + 680MHz |
| Main driver  | 380mm (15'') |
| Dimensions  | 675 x 420 x 395mm |
| Weight  | 18.1kg |