---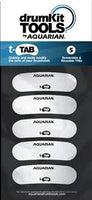 The t-TAB is a drumhead tone modifier that makes it easy to "fine-tune" the tone and resonance of any drum, in any room, for any playing situation.

Eliminate specific frequencies and control the length of decay of a drum by experimenting with the placement of the removable and reusable t-TABS at different locations on the drumhead.

Professional drum techs understand that there are times to adjust the drum sound by using external modification. Adjusting the ATTACK, TONE, and RESONANCE of a drum can all be achieved by adjusting the vibration and the density of the drumhead.

The 3" plastic t-TABS have a slight radius that allows them to fit nicely around the circumference of a drum. But unlike other muting mediums, the 10mil plastic TABs can be played on and placed anywhere, batter or resonant heads-wherever a frequency adjustment is needed.

The proprietary adhesive allows the t-TAB to be removed and repositioned over and over again. Multiple TABs can create a more profound effect. The included tab storage sheet can be used to hold tabs for quick and easy, real-time tone change. (Five TABs 3 clear and 2 coated) included in each package.
Focus the frequencies of the drumhead
Reduce or adjust decay
Increase clarity and attack